About Mark & Paula Atteberry
Mark Atteberry, Louisville Real Estate Specialist & Skilled Negotiator
Mark Atteberry represents the region's finest properties with exceptional skill using the most innovative technologies currently available. Mark offers ultimate privacy and security, speed, and efficiency. His years of full-time experience have given him a clear understanding of the mindset of home buyers and sellers and a thorough understanding of the regional marketplace.

"Mark is not only a great agent but also a greater person. You can't go wrong with him" ~ Investor Charles M. 3/5/12

Mark has had considerable success as a member of the Greater Louisville Association of Realtors, accumulating a terrific sales record. He has an aggressive yet professional approach to the business resulting in sales figures that are significantly above the average, and many satisfied clients. You can review his recommendations on Trulia by clicking here.

"Mark was great, very personable and was a wealth of information! He answered any questions I had and gave me a lot of information on buying properties to turn into rentals. Thanks for all of your great work, Mark! ~ Investor Jen G.

"Mark was excellent, he worked very hard for us and went above and beyond the call of duty. As a first time buyer there were a lot of things we were unclear about and Mark helped us understand and point out things that we were overlooking. I would definitely recommend Mark to anyone who is looking to buy a home. Thanks Mark! 1st Time Buyers, Chris F. & Brianna S.

Paula Atteberry, Expert Buyer's Agent
Paula Atteberry represents buyers in the Louisville Market. She utilizes her years of experience coupled with her ability to truly listen and understand what her clients want and need. This is especially helpful when working with first time buyers who may not know all their options or the best way to approach the project.

"...truly went above and beyond in helping me sell my house..." ~ Home Seller, Casey A.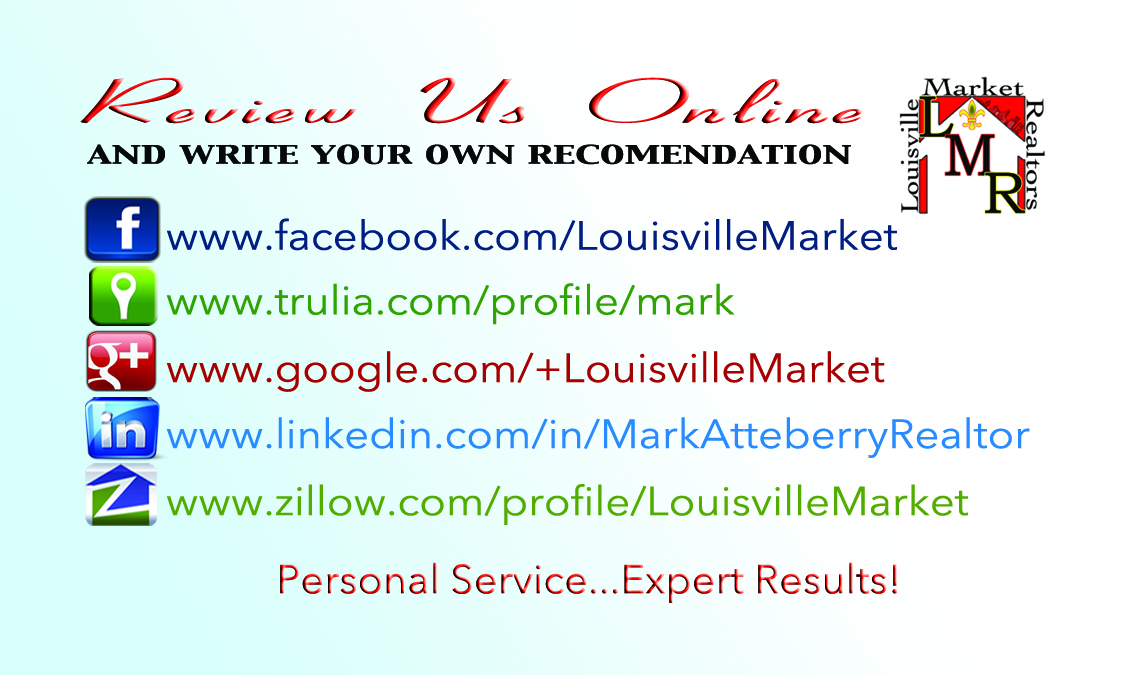 "...Hardworking, dependable and MOTIVATED! Worked late hours with me trying to find the house that I wanted and was there to answer all my questions throughout the whole process. Give them a call--you'll see." ~ Experienced Home Buyer, Rebecca E.

Paula has rave reviews praising her ability to find the right home in the shortest amount of time and in the price range her clients want. You can read their reviews on Zillow.com by clicking here.

"They were great. Very insightful. Knowledgeable of the new laws. We didn't know what we were doing and they guided us all the way. We got a great house at a very good price. I know we couldn't have done it without you." ~ 1st Time Buyer, Brenda A.